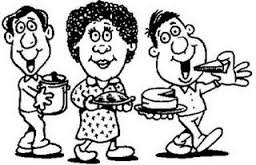 Tuesday, April 17th will be our senior potluck this month. After the busy Easter Season, I realize this is short notice, but I hope we have a large crowd now that the weather seems to be some-what better! Those with these initials please bring these items:
A-G……..Main Dish (Arrive early to set-up)
H-P………Desserts & Breads
Q-Z………Salads & Veggies. (Stay for clean-up)
All seniors are welcome and encouraged to attend!