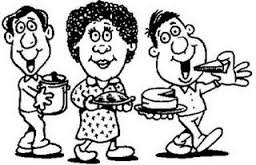 Event details
February 20, 2018
12:00 pm
Tuesday, February 20th we will have a senior potluck in the church fellowship hall at Noon.
Those with the following initials please bring the following.
A-G….Desserts and Breads
H-P ….Salad and Veggies (Stay for the clean-up)
Q-Z…..Main Dish. (Arrive early to set-up)
All seniors in the parish are invited and encouraged to attend this fellowship luncheon. You would be very welcome!