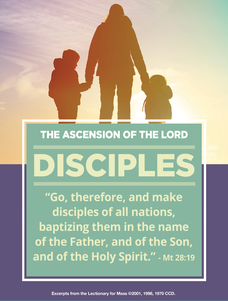 Today we celebrate the feast of the Ascension of Jesus. The disciples are now faced with, "the new normal" as they faced life without the physical presence of Jesus on earth. Just like us, the disciples were trying to adjust to a new normal, they, as they faced life without Jesus and we, our lives in the face of this health crisis that we find ourselves in.
I have come to loathe the phrase "the new normal" not because of the situation it is attempting to describe but in the way people say it and use it. They really wind it up, sigh and say it so pitifully, "well…this is the new normal, I guess."
Recently I was asked to a Zoom/online commencement speech for a former athlete I coached who was graduating from medical school. I talked about the day and age she is graduating into. Since she is studying to be a doctor, I thought I would explore the new words and phrases that have been coined and the old words resurrected by this health crisis.
We use words now, that three months ago we never would have known or understood. We now know what a thing called Coronavirus is and we also know that it is called Covid-19. We know the word lockdown in a new way and we know more about respirators and ventilators than we ever wanted to know. Suddenly we now know about a city in China called Wuhan.
Because of this virus we do things now that we have never done before. We elbow bump, we shelter in place and we self isolate. We have learned to quarantine and chill, to Netflix and chill and to hunker down. We now have virtual happy hours, Zoom meetings, Zoom trivia and Zoom bombing.
Because of this virus we have developed new slang. People are now known to "mask shame" others. We know what a "covidiot" is (someone ignoring public health advice) and we now throw "covideo parties" (online parties via Zoom or Skype) and we all yearn for the day when we can "covexit" (the strategy for exiting lockdown),
Because of this virus we found out about things we didn't know we needed so desperately and apparently can't live without. We learned that we can't live without cases and cases of toilet paper and hand sanitizer. We now ask for things we've never asked for before, like curbside pick up and want no touch delivery. Of course we want things like stimulus checks.
Now because of Covid-19 we are told to do things now, that we have never been told to do. Of course we knew we were supposed to wash our hands, but never have we been reminded so frequently to do so. We are told, don't touch your face!, wear your mask!, don't have gatherings of more than 10 people!, stay six feet away from each other!, restrict your travel!, and of course we are told to help flatten the curve.
We have all learned the difference between respirator vs. ventilators; essential vs. nonessential workers; frontline and non-frontline workers; symptomatic vs. asymptomatic; epidemic vs. pandemic; physical distancing and social distancing; self-quarantine vs. self-isolate; confirmed positive vs. presumptive positive and contact tracing apps vs crowdsourcing apps. We learned the difference between what is safe to drink….say, water as opposed to drinking things that are dangerous to drink like bleach.
We hear and now know new medical words like, droplet transmission, drive-thru testing, PPE or personal protective equipment, N95 masks, containment, mitigation, Antibody Testing and we learned what Hydroxychloroquine is and that we shouldn't take it.
At the same time we learned the value of old things now, the things we took for granted like, the value of getting together with our loved ones. We are conscious of protecting our friends and family. We learned in a new and more visceral way of how much we value our need to be physically with our family and friends.
Like the disciples without the physical presence of Jesus after the Ascension, we are faced with living a different way. We have relearned the value of many things we took for granted. And like the disciples we learned to adapt to the new normal. That's what we do.
The disciples not only adapted to their new way of being, they thrived because of it. They adapted in a way that has built the Church that grew and grew to the worldwide Church we have today, 2000 years later.
We will too. We will learn and adapt to things like we've always done. We will learn the uselessness of complaining and pouting and find the tenacity of finding new, safer and even better ways of living. We can take our cue from the disciples today as we face a new normal. We can grow and adapt like we always have, filled with confidence in each other and the Holy Spirit guiding us.
Run2Win4Him
James Kirby