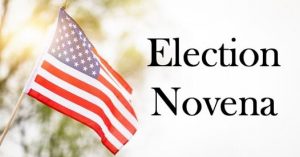 Join us in praying this
"Novena for America" prayer
each day from October 26th
until the election:


O Blessed Trinity, Father, Son, and Holy Spirit:

We praise You for Your Goodness. We thank You
for Your mercy. We ask forgiveness for our
offenses against You. We seek Your loving
care for all our needs and requests.

You have blessed our nation, and given us countless gifts.
Our freedom and the ability to seek Your will every day
are among our dearest possessions. But in turning away
from You, we not only risk the loss of all our country
has stood for, but we also offend You—who are
all good and deserving of all our love.

We ask that You hear us and, through Your
fathomless mercy, convert the hearts of
our people and bring them back to You.

May our land once more ring out with praise of
You and the most loving Virgin Mary, to whom
we have entrusted the petitions in this novena.

Most Holy God, we thank You for hearing us.
May our hearts praise You forevermore.
Amen.