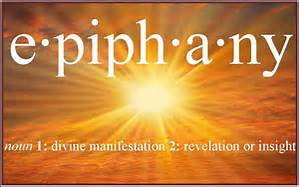 "Epiphany" a fun word to say. Try it. See! Epiphany is one of those words that can be used at parties or to impress your friends and family. It is a word that does not refer just to the Magi that visit Jesus in Matthew's Christmas story, but has a much broader sense and meaning. It is a word that means, "manifestation of God's presence." In today's Gospel situation, the epiphany of course is the star to the Magi. The star represented God's presence/message to the Magi of the actuality and location of Christ's birth.
Apparently, no one else was aware or interpreted this star as an epiphany, just the Magi. Clearly Herod did not perceive it, nor the chief priests and scribes, quite honestly it seems, neither did the Holy Family. This points out that epiphanies are often very personal and not all can receive it. It also points out regardless of the size, brilliance or obviousness of an epiphany, most will not receive it.
I would also say that epiphanies do not need to be astrological events, nor do they have to be gigantic in size. Epiphanies have been experienced in the most subtle and ordinary ways. A slight breeze, a scent or even a spoken word, an epiphany can be anything that manifests God's presence to us.
Of course some people can't see an epiphany because they are not looking for it or simply don't care whether they see God's manifested presence or not. I think by nature, Christians would be part of the group that would be looking for God's manifested presence or at least open to seeing an epiphany if and when one ever appeared to them.
How about us? Have we experienced God's presence recently? Are we open to such a thing in our lives or do we march ahead in life, head down, going about our business. It's not that we are opposed to experiencing God's presence and may even want to, perhaps we just don't place ourselves in a position to see God's presence.
The Magi were open to this epiphany even though they were not Jewish, nor even understood what a Messiah is or might be. Like the Magi, we need to stop, look and open our hearts and minds to be able see God's presence when it presents itself to us.
Run2win4Him
James Kirby