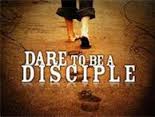 In today's Gospel we hear Mark's version of Jesus choosing his disciples.  I can't help thinking this is Jesus picking his cabinet much like the incoming president is. Of course these 12 do not have to submit to senate confirmation hearings nor be subjected to ongoing public scrutiny.  Their qualifications aren't really known except they are willing to follow the person who chose them.
These twelve have no small mission.  Even as confused as they seemed to be most of the time, their ultimate job will be to proclaim the Gospel….the Good News of Jesus to the world.  You would think, with such lofty roles in the eventual history of the Church and indeed the world would cause an extreme vetting of these twelve, at least by Jesus. (The use of "indeed" is a nod to a friend and political commentator Dean Borg who just retired from IPTV).  Alas, it was none, and as one might expect, there was scandal.  One of the twelve apparently had ties to the opposition and this collusion ultimately gave way to some dire consequences for his leader.
Yes, I hear the groans from all of you as I have attempted to be relevant and timely with my bulletin column, but you have to admit, if you have gotten this far reading this, I accomplished my mission of engaging you.
The crux of the issue here is  (another nod to Dean Borg) to realize that as little qualifications as the original followers of Christ had, the qualifications for each of us to follow Jesus are the same.  Even though qualifications are low, expectations are high.  While there may be little qualifications, much is expected.  We are expected to follow Christ with our hearts, minds and lives no matter what the price.
So, in honor of the inauguration that took place Friday….
 "Let the word go forth from this time and place, to friend and foe alike, that the torch has been passed to a new generation…" John F. Kennedy – Inauguration Speech 1961
(more groans at my attempt at relevance…)
Run2win4Him
James Kirby