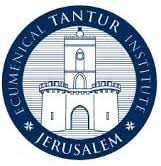 Greetings, from Tantur!
As many of you know, at this time during the year, I visit Tantur, located between Bethlehem and Jerusalem. Tantur is an ecumenical institution owned by Notre Dame. Tantur is an "oasis of learning, community and hospitality." It is a place situated in the midst of the complex cultural, social and spiritual dimensions of the Moslems, Jews and Christians of this land. Tantur tries to embrace all voices and strives to initiate and cultivate dialogue and ideas for peace.
I come here each year in order to help the staff with photos and videos, but most of all because I am drawn to this place by a desire to be closer to the world and to be immersed once again into the human spiritual and cultural condition at its base. I am attracted to Tantur by their mission of trying to bring peace in a place that seems to reflect the suspicions, tensions and too often, violence of the world. Here is a place, in the midst of it all, where something is being done to sow peace and reconciliation. With all that is wrong in the world, for me, this place tries to do something right.
At times this place seems like the center of the world, where the three major monotheistic religions try (and fail) to coexist. It is a challenging place to be at times, but even so, I feel closer to the world here and all of its beauty and complexity.I will spend Thanksgiving with the staff and visitors here at Tantur and then I will visit St. Elizabeth's Convent in Minsk. If you recall, earlier this year Sr. Anastasia of the convent came to our parish to sell religious articles in order to raise awareness and money for their convent and mission. I am going to spend some time with their community and to experience Russian Orthodox spirituality up close.
Until then, I wish you and your family, "السلام وسعيد الشكر" in Arabic, "Peace and a Happy Thanksgiving!"
Run2win4Him
James Kirby