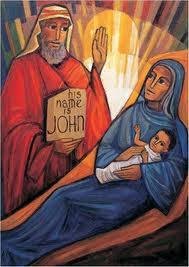 The site of today's Gospel is not specifically given, but we are given some clues. Earlier in Luke's story of John, Mary, Elizabeth and Zechariah, we are told that Mary traveled to the hill country to the town of Judah. Today, the traditional site of this event is said to have been located in a suburban town near Jerusalem called Ein Karem.
You can go there and visit the churches dedicated to the Visitation of Mary and the Birth of John the Baptist which dominate one of the facing hills and then walk over and then up the opposite hill to where the Franciscan Monastery of St. John of the Wilderness is located. You can visit "The Mary's Spring," a site believed to be where Mary drank from this village spring and is also believed to be the place where Mary and Elizabeth met.
At the church of the Visitation you can walk through a courtyard where the Magnificent is displayed in practically every language imaginable and the same type of courtyard located near the church of John's Birth, only with the words of the Benedictus displayed in the same multiple languages.
Not far from downtown Ein Karem is the Convent of Notre Dame de Sion. This is one of my favorite places as it is a quiet retreat facility overlooking the valley leading up to the village. Here, I like to stay in the hermitage that is set apart from the rest of the buildings. It is a wonderful little cottage overlooking the valley.
I like to walk down into the town in the evening and visit one of the trendy restaurants. Ein Karem, today, is better known for its artsy and more trendy inhabitants. While more than 3 million visitors visit their town, the people here don't seem to notice and carry on with their lives, focused more on their fine restaurants and trendy shops.
While I came to Ein Karem originally to visit the holy sites, I go there now, to experience the peace and calm of the town environment. Even if I am not on any sort of pilgrimage, I am drawn there for what I feel is are equal and more primordial desires, peace, tranquility and rest. I think John, Mary, Elizabeth and Zechariah would all agree as well.
Run2win4Him
Rev. James Kirby