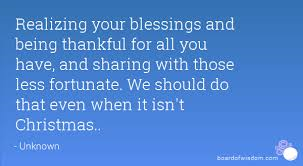 Well, well, well, here we are, a mere week from Christmas.  It is a great time of the year.  There are Christmas parties to attend, presents to buy, good cheer, decorations and everyone seems to be a little more happy and pleasant.
We are reminded of how truly blessed we are in this country, while often times our biggest stress is that we have not gotten all of our Christmas shopping done.  I remember while I was at Dowling, I used to say a prayer with the kids in the musical before the show.  They were all so very nervous and worried about their performance.  We would always pray that we should thank God that their biggest stress was over their performance in a high school musical, and not whether they had food to eat, a roof over the head or that they were being shot at or having their city bombed.
This Christmas we should thank God for all the peace and security he has given us, while remembering those that suffer so much around the world.
A former student of mine is raising money for "The White Helmets" of Aleppo, Syria.  The White Helmets are the first responders in Aleppo who tirelessly respond heroically, immediately, day and night to the endless bombings and attacks in Aleppo. They risk their lives to save anyone who may have survived the attacks and explosions.  They are, in the true meaning of the word, "hero."  Regardless of their religion, they are literally Christ's presence on earth, whether they think that way or not.
We will be taking up a second collection Saturday and Sunday to help my former student in her efforts to raise money for the people, specifically the children, of Aleppo.  This Christmas, let us thank God for the blessings he gives us in our country while at the same time showing Him our appreciation by helping the least of His Kingdom.
The White Helmets Hero Fund webpage is here: https://herofund.whitehelmets.org/donate/crowdfund…
Run2win4Him
Rev. James Kirby