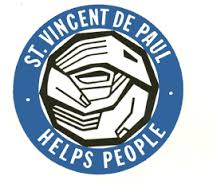 This St. Vincent de Paul Society sponsored event was a success at Pete Crivaro Park on September 18th. We thank all who walked, volunteered or pledged. We had great food and beverages for our catered picnic as well as desserts. Wonderful live music was provided by Jim Wachuta! The day was blue sky, warm and perfect, except for a few pesky bees. Disc golf winners won $100 Caseys cards (Sara Sinclair) and many door prizes were won. Kevin Sinclair won a $25 gift card to Chuck's Restaurant. Jenny Sinclair won a centerpiece and Sue Miller won a pedometer. We had about 100 participants.
The event brought in a total of $4,300.00.00 with expenses of about $600 (public relations and fees). Many conferences were represented. We enjoyed our farthest away attendee from Omaha, Barb Slaven, our Mid-West Region representative.
The traveling "Big Shoe Award" (for most money collected) went to St. Elizabeth Seton of Carlisle conference.  First runner up was the district and 2nd runner up was Christ the King conference.
We thank our sponsors: our district council, Taste ! To Go, Fareway-Carlisle, Chuck's Restaurant, St. Mary's of Nazareth conference, Sacred Heart conference, St. Elizabeth conference, O'Meara Dental, Paesano's Pizzeria, Cooney's Tavern, CarlisleTrue Value, Fizz, Knights of Columbus/St. Elizabeth's, Optometric  of Warren Co., Bob Watts, Shelter Insurance and Great Western Bank/Carlisle. Also special thanks to planning committee members: Steve H., Jim W. Rita Dette, Sharon Ferguson, Donna Hunderdosse, and Randi Radosevich
Our St. Elizabeth Seton conference will use these donations toward Thanksgiving baskets for 60 Carlisle families. The funds also help provide monthly meals at the local food pantry. The funds also help those in need toward utilities, rent, medical or transportation aid.
Donations are still being accepted. /Donate online at www.svdpusa.net/walk/1597 or call Sharon Ferguson, treasurer at 989-3628
Submitted by: Moe Kauzlarich, Walk Coordinator