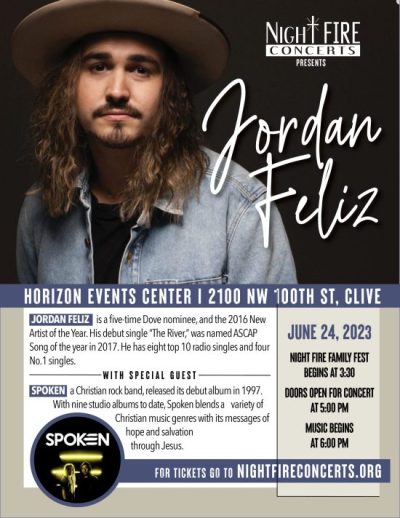 JUNE 24, 2023 FAMILY FEST, 3:30 P.M AND DOORS OPEN FOR CONCERT @ 5 p.m.
SHOW TIME @ 6 pm., Horizon Events Center – 2100 NW 100th St., Clive
Jordan Feliz is a five-time Dove nominee, and the 2016 New Artist of the ear.
His debut single "The River", was named ASCAP Song of the year in 2017. He has eight top 10 radio singles and four No. 1 singles.
With special guest SPOKEN, a Christian rock band.
For tickets go to: NIGHTFIRECONCERTS.ORG