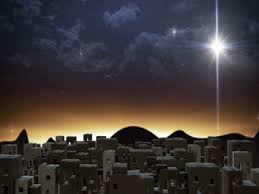 A couple of weeks ago when I was in Israel for a little break, some of the residents, scholars and staff were invited to a Christmas concert put on by a German Philharmonic Orchestra with some professional singers performing as well. The event was held at St. Anne's Church right next to the Church of the Nativity in Bethlehem. The concert was to be recorded for German television.
Because of all of the production equipment and last minute tweaking and adjusting, the audience was not allowed into the Church until they were ready. Of course, the weather outside in Nativity Square was cold and rainy. Dozens of people outside tried their best to find some place to wait out of the rain. For me, in case you haven't noticed, I don't really like crowds and I would be more comfortable standing in the rain with a little space than crammed into some storefront with a crowd.
A friend and I felt we were similar to the Holy Family appreciating what "no room in the inn" must have felt like….to a small degree. We decided to take a walk around Nativity Square and check out the sites. They were setting up Christmas Trees and decorations, getting ready for the annual Christmas Tree Lighting a few days later. The Church of the Nativity was closed and the small door that people would crawl through to get into the church was locked tight.
Walking toward a favorite ice cream/coffee place adjacent to the Square, the Moslem Call to Prayer began from the Mosque opposite the Church. I always enjoy hearing the Call to Prayer, and while I can't understand the Arabic, I know that the message is of thanksgiving and glorifying God. This night, it was a woman's voice…beautiful. Usually it is a man's voice singing, but this night the Call to Prayer was hauntingly beautiful.
Nativity Square is a favorite place for me, but getting there is not always easy. Bethlehem is a complex city and it is not always the 'peaceful city we glamorize in our Christmas carols. There are the check points and the various hot spots of tension, but in Nativity Square it is striking how easily the Moslems and Christians coexist. With the Church and the Mosque facing each other they share the square which often turns into a shared parking lot. At least here there is peace and good will for the most part.
The concert was beautiful and the music was beautiful. As the program ended and the last notes of O Come All Ye Faithful echoed through St Anne's, there was another Call to Prayer from the Mosque across the square, the same beautiful female voice praising and glorifying God as well. There was a moment when the two songs mixed both praising God and in that moment there was peace, understanding and beauty.
Run2win4Him
Rev. James Kirby